Fruits Trail
From Early July to End of October
Fruits Trail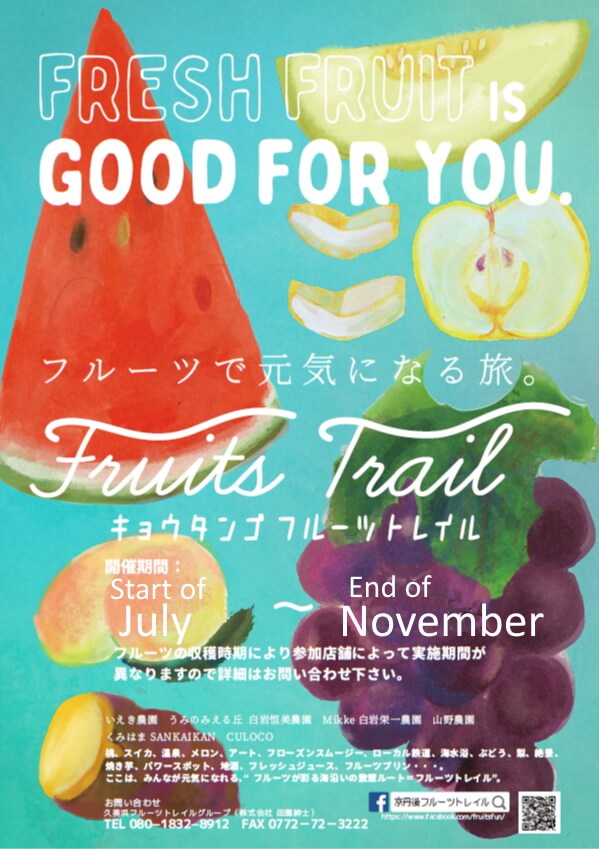 The Fruits Trail is…
Locally Produced!
Picked Fresh that Morning!
A Wide Range of Fruits!
Lots of Varieties!
Waiting for You to Try!
Between Kumihama Bay and Yuhigaura Beach there are innumerable fruit farms and orchards with fruit stands right next to the road. A few of them have come together to make delicious frozen fruit smoothies.
Available in summer and early autumn the smoothies change flavour as the fruits come in and out of season ensuring that you are getting fresh in season fruit.
The local farms produce peaches, watermelon, muskmelon, grapes, and pears to make into smoothies. And one farm produces sweet potatoes from September, they can be bought cooked to perfection, from the roadside for a warming snack to enjoy as autumn comes in.
Photo Gallery
DETAILS
DATE(S)

From Early July to End of October
LOCATION

Kumihama