Cape Kyoga Misaki Airshow 2022
Sunday May 29th
Cape Kyoga Misaki Airshow 2022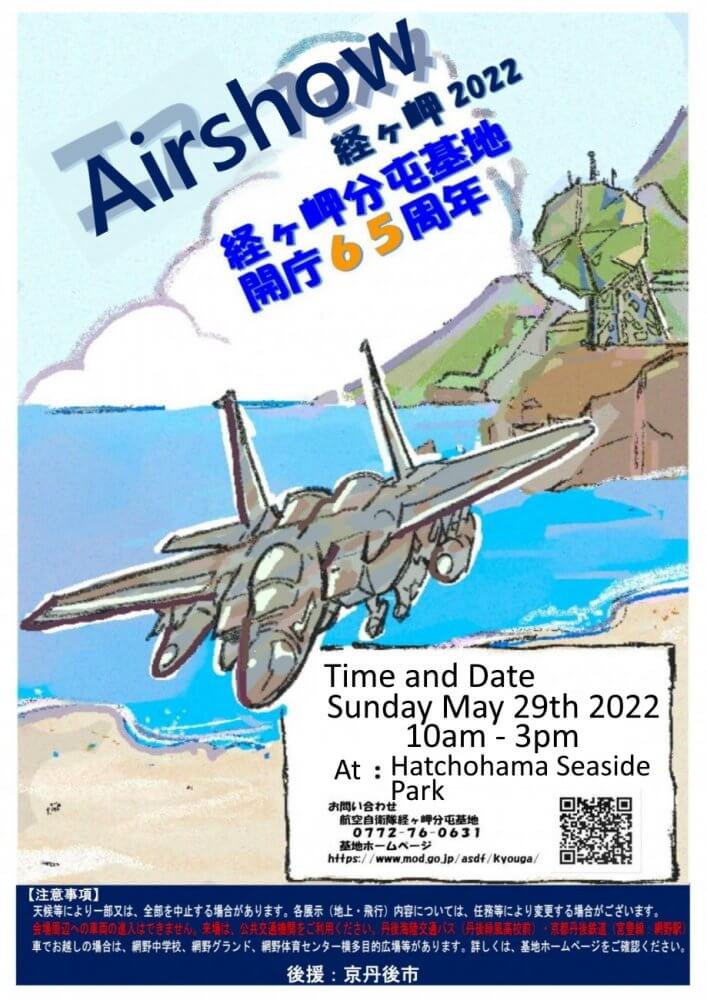 This year commemorates the 65th anniversary of the opening of the Cape Kyoga Misaki sub-base.
You'll be able to see aircraft flying overhead as well as a demonstration of the Self-Defense Forces rescue operations by the Komatsu Rescue Team.
There will also be a collaboration performance of the US Army Japan Band and the Japan Maritime Self-Defense Force Band, Maizuru; and you'll be able to see some special equipment up close.
For everyone's safety and enjoyment please adhere to the following rules:
Vehicles will not be allowed on the road in front of the event.
Do not be a nuisance for other visitors.
Do not park or get in or out of vehicles outside of the designated areas.
Do not park illegally.
Do not bring any potentially dangerous items with you (ie. knives or flammable materials).
no unmanned flying devices (ie. drones).
No smoking outside of designated areas.
Temporary parking will be set up. Please understand that parking may be full.
There will not be any food sold on site. If you bring your own please take your rubbish home with you.
Please wear a mask.
If you have a fever please do not attend the event.
In the event of bad weather one or all parts of the event may be cancelled.
Photo Gallery
DETAILS
DATE(S)

Sunday May 29th
LOCATION