Hot Air Balloon Flight
Hot Air Balloon Flight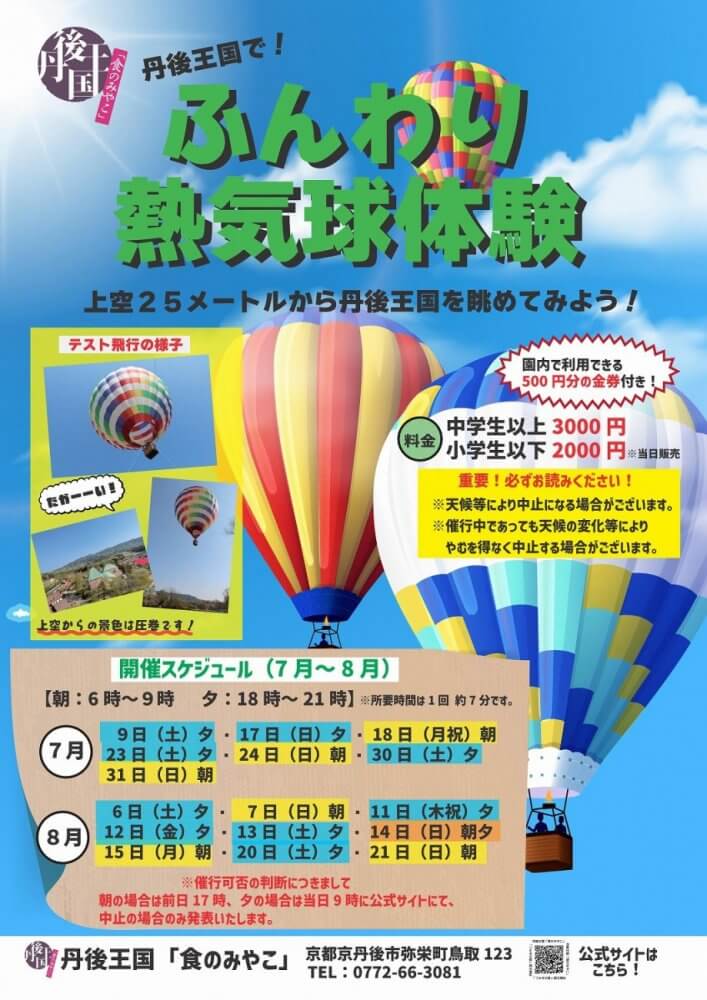 Throughout July and August you'll be able to take in the scenery around the Tango Kingdom from 25 meters above the ground in a hot air balloon.
Each flight lasts for about 7 minutes, giving plenty of time to soak in the surroundings. Flights are either in the morning or evening on certain weekend and holiday days, details below.
July
9th (Sat) Evening
17th (Sun) Evening
18th (Mon) Morning
23rd (Sat) Evening
24th (Sun) Morning
30th (Sat) Evening
31st (Sun) Morning
August
6th (Sat) Evening
7th (Sun) Morning
11th (Thurs) Evening
12th (Fri) Evening
13th (Sat) Evening
14th (Sun) Morning & Evening
15th (Mon) Morning
20th (Sat) Evening
21st (Sun) Morning
In the event of bad weather the flights will be called off.
For elementary school and younger 2000yen and for junior high school and older 3000yen.
DETAILS