Kyoto-Tango Dumpling Operation
November 23rd - 27th
Kyoto-Tango Dumpling Operation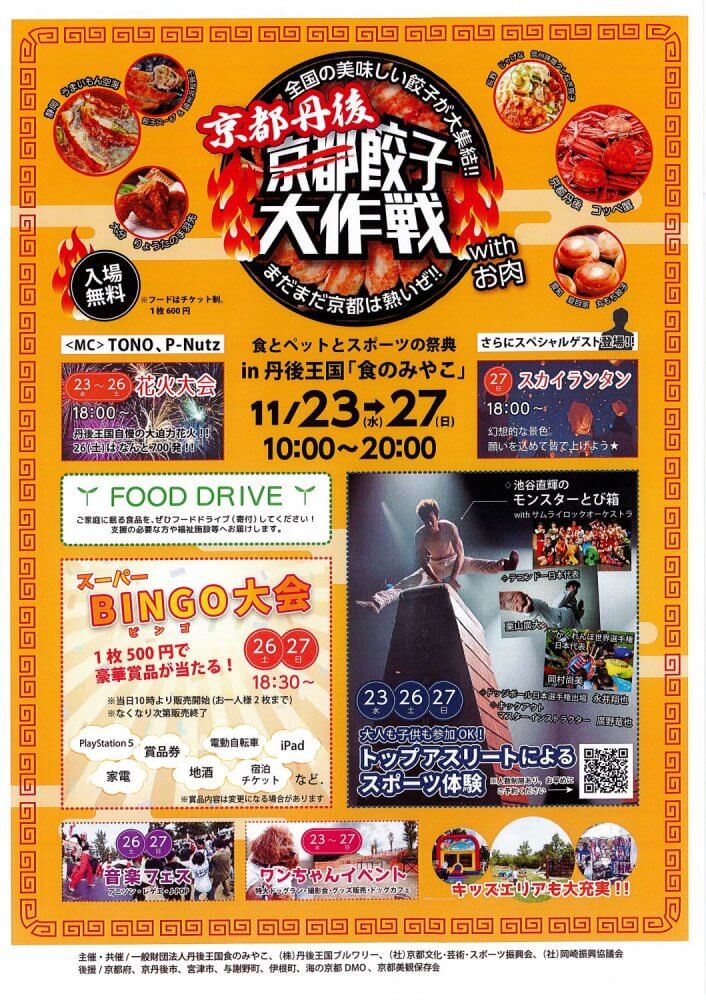 Tango Kingdom will be hosting
The Kyoto-Tango Dumpling Operation
With lots of dumplings and other foods from around the country
November 23rd – 27th
From November 23rd to 27th you'll have a chance to taste delicious 'gyoza', dumplings, as well as other foods. Entry is free, food tickets are 600yen for 1 ticket.
More than just food there is a lot of other activities and events happening too.
23rd, 26th, 27th Sports activities with top athletes
26th, 27th Music show with anime songs, reggae, and J-pop
26th, 27th form 6:30pm Mega Bingo with prizes like PlayStation 5, iPad, Accommodation tickets, and more
23rd-26th from 6pm there will be nightly fireworks
27th from 6pm sky-lanterns will be sent up
23rd-27th Puppy events (dog run, photoshoot, goods, and dog cafe)
There will also be a food drive if you want to drop something off for those in need.
More about Tango Kingdom
Photo Gallery
DETAILS
DATE(S)

November 23rd - 27th
LOCATION

Tango Kingdom