Takakurazome X Bim Bom Bam Gakudan – Live Show
16th November 2019
Takakurazome X Bim Bom Bam Gakudan – Live Show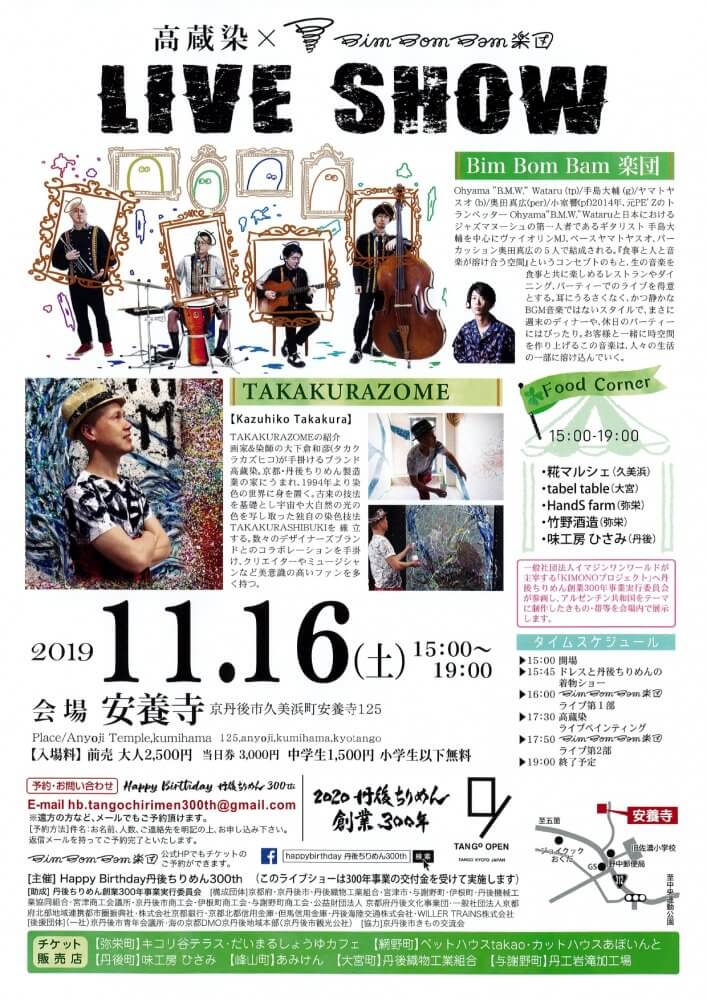 This show is for lovers of art in its many forms. A fusion of live music, live art, live fashion, and food will stimulate all of your senses.
Bim Bom Bam Gakudan's easy listening style pairs perfectly with your meal. But don't think of it as background music it stands on its own.
Takakurazome takes inspiration from the universe and the colours of nature to come up with his unique artistic style. His art and fashion items have proved popular with musicians and other creative types.
There will be food served through out provided by: Koji Marche, tabel table, HandS farm, Takeno Shuzo (sake brewery), Hisami
Schedule
15:00 Doors open
15:45 Tango Chirimen Kimono Show
16:00 Bim Bom Bam Gakudan Live Set 1
17:30 Takakurazome Live Painting
17:50 Bim Bom Bam Gakudan Live Set 2
19:00 Finish
Prices
Adults: 2500 in advance (3000 at the door)
Junior High Student: 1500
Elementary School Student and younger: free
Tickets
Tickets can be purchased from the following shops and cafes and online:
Bim Bom Bam Gakudan: https://www.bbbgakudan.tokyo/
Email (please leave your name, how many people and contact details): hb.tangochirimen300th@gmail.com
Yasaka-cho: Kikori Tani Terasu (Tango Organic Farmers), daimarusyouyu Cafe
Amino-cho: Pet House takao, Cut House a・points
Tango-cho: Hisami
Mineyama-cho: Amiken
Omiya-cho: Tango Orimono Kougyou Kumiai (Tango Textile Industrial Association)
Yosano-cho: Tanko Iwataki Kakojyo
Organised by: happybirthday 丹後ちりめん300th (Happy 300th Birthday Tango Chirimen)
DETAILS
DATE(S)

16th November 2019
LOCATION

Anyoji Temple, Kumihama