Collect "Walking Points" with the San'in Kaigan Geopark Trail
From 1st October to 30th November
Collect "Walking Points" with the San'in Kaigan Geopark Trail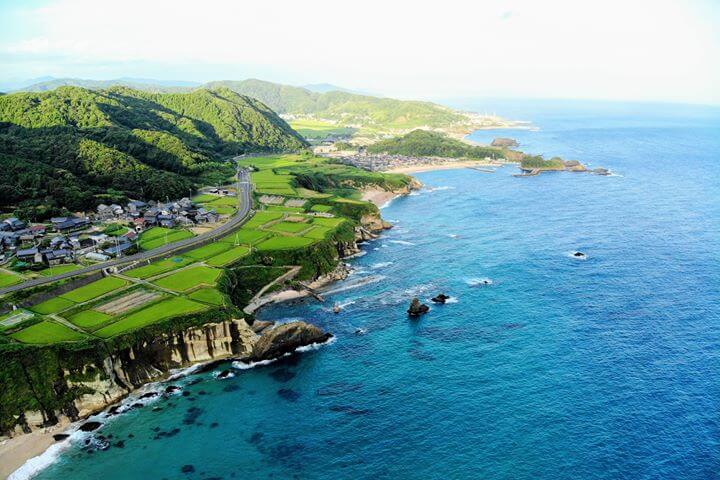 The San'in Kaigan UNESCO Global Geopark stretches for 230km from Tottori to Kyotango, and the whole length is walkable!
The full length is called the "Long Trail", but it has been broken up into 27, more palatable courses. Most of them can be completed in 2-3 hours, depending on how long you spend gazing at the scenery.
To celebrate the completion of the Long Trail the Geopark are offering points for completing the smaller trails in October and November. These points can then be redeemed at specific stores, restaurants, hot springs, and more.
Kyotango features six of the short trails, from Shotenkyo, in the south-west, to Kyogamisaki, in the north-east. These trails show off the variety of Kyotango's coast, varying from smooth sandy beaches to jagged rocky cliffs, and everything in between.
How to Get Points
1) You must collect a point sheet from an appropriate business. Not every course has a points counter immediately adjacent, feel free to visit the closest, most convenient one.
2) Take a selfie at the start, checkpoint, and end of the route. At the checkpoint there will be a sign showing the route number, make sure it is in the background.
3) Finally, return to the points counter to receive your point card. You'll need to show your 3 photos, including the date and time, and complete a short questionnaire. They will then give you a sticker to apply to your point sheet showing the date and time of completion.
Points Counters
In Kyotango there are 4 businesses where you can get point sheets and the point card stickers.
Where to Redeem Points
In Kyotango there are 9 businesses which accept the "trail points".
The Courses
Course 22
Course 23
Course 24
Distance: 4.2km
Difficulty: **
Points: 200
Nearest Points Counter: Asamogawa Onsen Shizuka no Sato or Singing Sand Museum
Course 25
Distance: 10.7km
Difficulty: ***
Points: 300
Nearest Points Counter: Singing Sand Museum or Tenki Tenki Tango
Course 26
Distance: 9.9km
Difficulty: **
Points: 200
Nearest Points Counter: Tenki Tenki Tango
Course 27
Distance: 9.0km
Difficulty: ***
Points: 300
Nearest Points Counter: Tenki Tenki Tango
Further Details
For more details about the point scheme check out the official San'in Kaigan Website (Japanese).
Maps of the individual courses are available above in Japanese, or scan the QR code on the below Pamphlet (Inside pages).
To learn more about the San'in Kaigan Geopark please check their English Website (Korean, Simplified Chinese and Traditional Chinese are also available)
DETAILS
DATE(S)

From 1st October to 30th November
LOCATION

All Along the Kyotango Coastline