The Magic Hour is Here
October 17th - November 1st
The Magic Hour is Here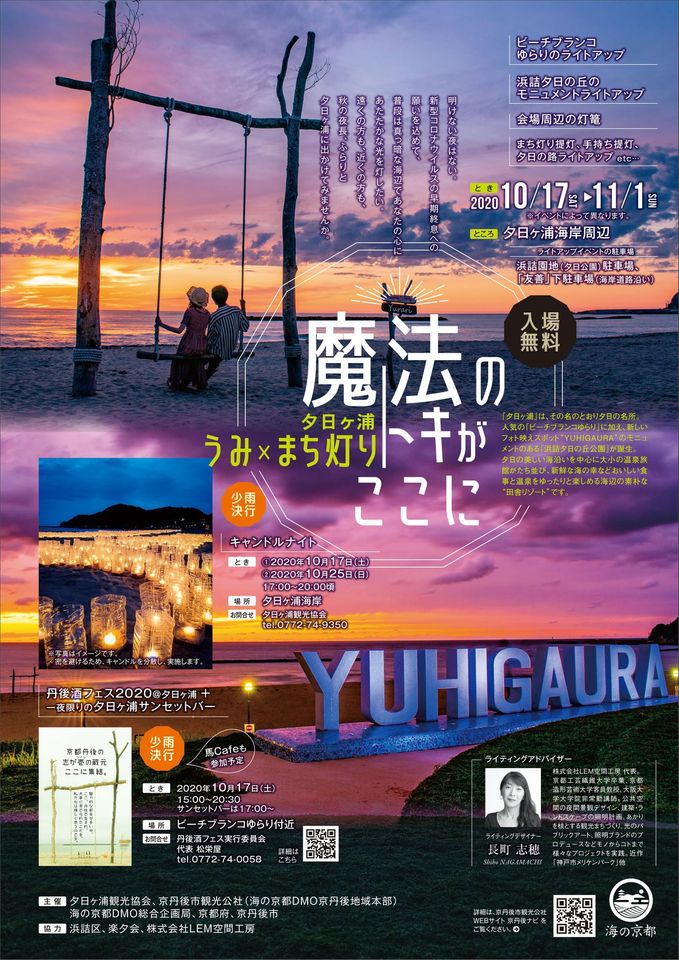 From October 17th to November 1st Yuhigaura beach will be in the "Magic Hour".
On the 17th (Saturday) and the 25th (Sunday) of October there will be a candle display along the beach from 5:00pm to 8:00pm.
There will also be Tango Sake Fest 2020 and seaside bar at the idyllic "Yurari" Swing on Saturday the 17th. The Tango Sake Fest 2020 is open from 3:00pm to 8:30pm, the seaside bar will be open from 5:00pm.
Other Activities
There will also be Sunset SUP (Stand-up Paddle) with LED lights under the board to add to the magic. Available from October 10th -November 1st between 5:00pm and 6:00pm.
e-Bike Guided Tours can be booked for October 17th, 25th, and November 1st. The tours last from 2:00pm-5:00pm on the 17th and 25th, and 9:00am-12:00noon on November 1st. The tours include a tasty local treat.
The candle display and Tango Sake Fest 2020, with seaside bar, will still be held if there is a little rain.
As with all events during the COVID-19 pandemic please ensure you have a mask on hand, and take all normal precautions to prevent the spread of infection.
DETAILS
DATE(S)

October 17th - November 1st
LOCATION

Yuhigaura Beach
CONTACT

Kyotango Tourism Association: 0772-72-6070