Kyotango Collection Winter 2021
Kyotango Collection Winter 2021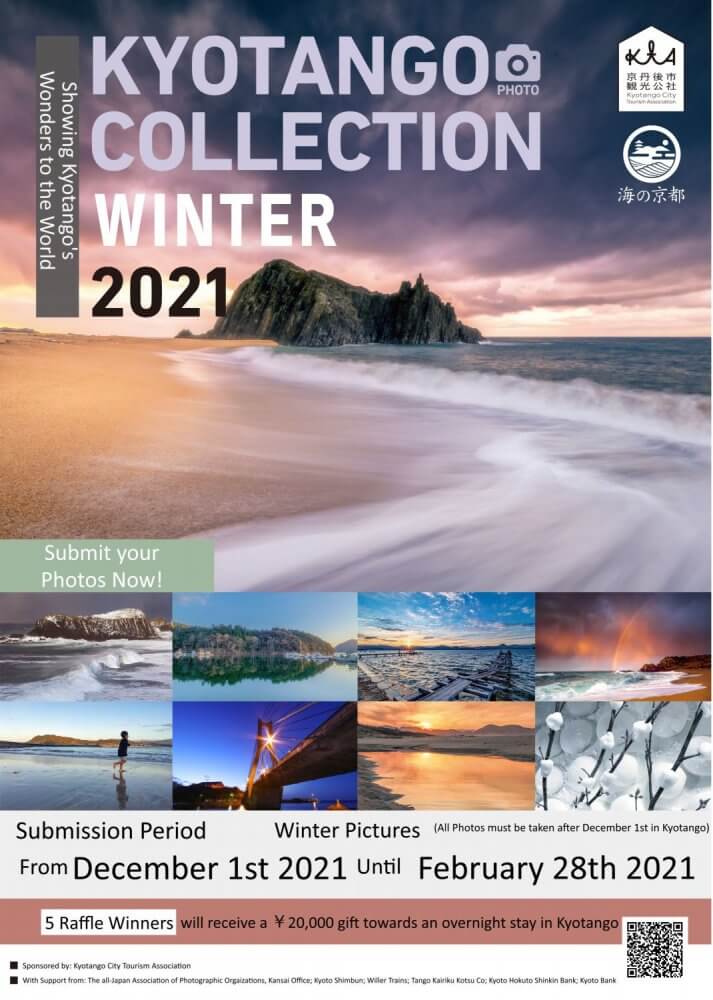 Showing the Wonders of Kyotango to the World
The Kyotango City Tourism Association wants your help to obtain premium photographic content.
We are looking for great pictures of Kyotango to use on our websites (Visit Kyotango, and Kyotango Navi), social media feeds and advertising campaigns. Full credit will be given to you as the photographer.
You will also be in with a chance of winning great prizes, including: accommodation vouchers or local specialty goods.
Theme
Kyotango in Winter
Who can submit
Anyone and everyone can submit photos (whether professional or amateur, no age limit). Please note that prizes can only be shipped within Japan.
Where to take pictures
Photos must be taken within Kyotango.
Prizes
Thank You! prize: 5 winners (A raffle prize drawn from all applicants)

A 20,000 yen voucher to use at any accommodations (hotel, ryokan, or minshuku) that is a member of the Kyotango City Tourism Association Group
Facebook "Like" prize: 5 winners (The 5 photos that get the most "likes" when posted on our Facebook page)

An assortment of Kyotango local speciality products worth 3000yen.
How to submit
To submit a photo please access the "KYOTANGO COLLECTION SUMMER 2021" website here. (Got stuck? Try using auto-translate.)
Photo Format
All photos must be submitted electronically (recommended size is larger than 210mm X 297mm, 350dpi)
Terms & Conditions
Photos taken where entry is prohibited or where photos are prohibited will be disqualified.
All photos must be taken between September1st 2021 and November 30th 2021 within Kyotango.
There is no limit to the number of photos that one person can submit.
The photos cannot be submitted to any other contest.
Photos can be in either color or black and white.
Composite and manufactured pictures will be disqualified. Fine tuning of natural lighting, contrast and cropping is acceptable.
Kyotango City Tourism Association will not accept any responsibility for photos submitted without the approval of the photo's subjects or where the applicant is not the copyright holder of the photo. Obtaining consent for the photos is the responsibility of the applicant. Photos of minors must be obtained with the consent of their guardian.
In principle photos will not be returned. Please take that into consideration prior to submitting.
Failure to abide by the above rules will result in disqualification.
Announcing Results
Results will be announced for each prize around the middle of March.
Winners will be notified directly, and an announcement will be posted on the Kyotango City Tourism Association's websites.
Photo Management
Photos will be published on the Kyotango City Tourism Association Facebook page.
Photos will be published on the Tourism Associations websites with the photographers name (or handle) visible.
Photos may be used in advertising campaigns for Kyotango without compensation.
Copyright
The ownership rights of the photo will transfer to Kyotango City Tourism Association.
Personal Information
The personal information of applicants will not be used for any purposes outside the context of this event.
For the Japanese version of this webpage please click here.
DETAILS