1-Day Tour of Tango and Kinosaki Area
Limited Time Tour: October 29th (Sun) & November 13th (Mon)
Through the lenses of Art and Food take a journey through Japan's past, to get a glimpse of its future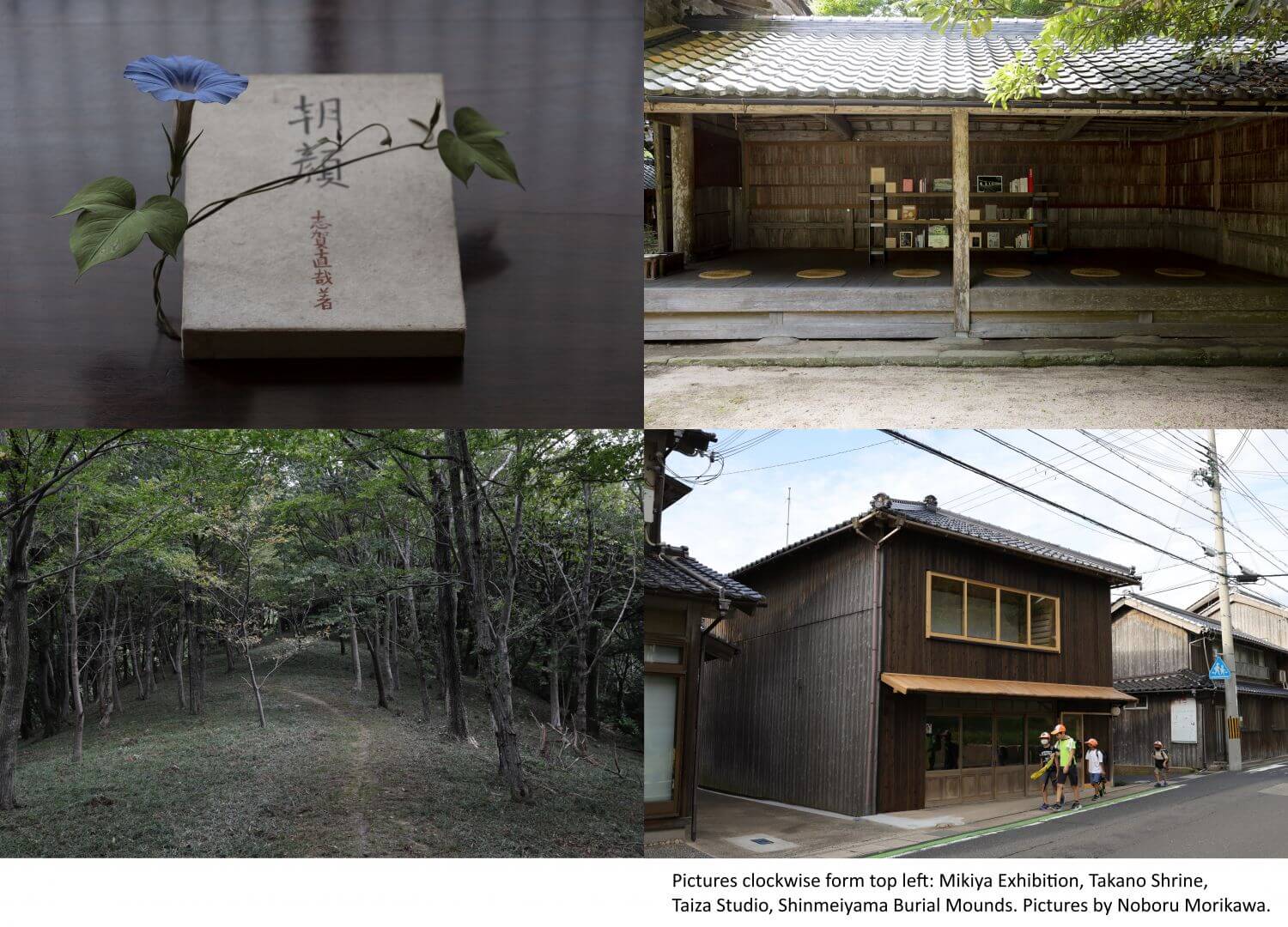 The first stop on the tour is the Japanese ryokan Mikiya, which has been in operation for about 300 years. The famous Japanese novelist Naoya Shiga stayed and did some writing here in the early 20th century. Modern artist Yoshihiro Suda and ceramic artist Akio Niisato have taken inspiration from the works of Naoya Shiga, and you will be able to appreciate their works in the room where Naoya Shiga stayed. This room is usually only accessible to hotel residents.

You'll then take the bus to Kyotango for lunch at the Roadside Station. There you will be served an exquisite meal with recipes designed by highly acclaimed restaurants: cenci, based in Kyoto, and Nawaya, based in Kyotango. The dishes will be made using local ingredients and are only available for a short time.
Also at Tenki Tenki Tango will be a Tango textile installation created by textile designer Yoko Ando and the Next Generation Architecture Team.

After lunch you'll visit a number of historic and cultural locations containing special art projects. The sites include: Takano Shrine, which was founded when Japan's 9th emperor, Emperor Kaika's, consort returned to her home in her later years; the Tango Ancient Village Museum where AAWAA (COSMIC WONDER), a work inspired by local history, is on display; and Shinmeiyama Burial Mounds, which is on a man-made hill next to Takano Shrine and is a symbol of the power that the ancient residents had over the Tango area.

After these three sites you'll visit Taiza Studio, the center of TOMORROW FIELD where, inspired by ancient buildings like Ise Shrine, the artists experiment with different construction styles to make connections between the past and the future. It's here that you'll be able to see their installation themed "Future Living".

After that the bus will take you to scenic Amanohashidate where the tour will end. There you are free to see the attractions, stay overnight or take the train to your next destination.
Tour dates

This tour will be held on two dates:
Sunday, 29th of October
Monday, 13th of November
Please specify which date you would like to attend in the registration form below.
DETAILS
REGISTRATION START

2023/07/18
REGISTRATION ENDS

2023/11/02
SCHEDULE
(Some times may differ)

11:00am meet at Kinosaki Onsen Station
11:10am-12:00noon Visit Mikiya
1:00pm-2:00pm Lunch at Tenki Tenki Tango
2:00pm-3:30pm Visit Takano Shrine, Tango Ancient History Museum, Shinmeiyama Burial Mounds
3:30pm-4:30pm Visit Taiza Studio
5:30pm Arrive at Amanohashidate (finish)
ACCOMPANYING GUIDE
(INCLUDED OR NOT)

Included
MEETING PLACE

Kinosaki Onsen Station
IMPORTANT INFORMATION

October 29th (Sun)
November 13th (Mon)
Guides are Provided
Cost 19,500 JPY per person
MUST READ NOTES

If there are any foods you do not or cannot eat please notify us when you register for the tour.
Participants must provide their own transport to Kinosaki Onsen and from Amanohashidate, the following train times are for reference only and should be booked through the respective train companies: leaving Kyoto City at 8:38am will arrive at Kinosaki Onsen at 10:58am; leaving Amanohasidate at 6:08pm will arrive in Kyoto at 8:21pm.
For those wishing to stay the night before in Kinosaki Onsen or the night after in Amanohashidate please let us know and we can recommend some accommodations.
PRICES
INCLUDED IN THE PRICING

Travel within the tour (from Kinosaki Onsen Station to Amanohashidate Station)
Meals
Guides at each location
Interpreter
CANCELLATION FEES

| | |
| --- | --- |
| 10 days - 8 days before tour starts | 20% |
| 7 days - 2 days before tour starts | 30% |
| 1 day before tour starts | 40% |
| On the day, before tour starts | 50% |
| After the tour has begun/ no show | 100% |
ACCEPTED PAYMENT TYPES

After registration, you will receive a link to pay by credit card (Visa, or Mastercard) in your email.
COMPANY INFORMATION

TOMORROW FIELD is an art project bringing beauty, philosophy and skills and knowledge from the past together to share it with younger generations.
Their works revolve around food, community, housing, communication, artifacts, and prayer. By creating works in these fields and creating interactions with artists, architects, artisans and chefs they try to rediscover the spiritual and natural gifts of the land and learn to integrate them into modern life.
Request a reservation
This is a form to request a reservation for this activity and does NOT guarantee your reservation. You will be contacted and notified by staff about your request and be sent a confirmation email later on.
Request Form
Please fill out all required (*) fields.