Blog
Posted: November 5
Japanese Poetry Day in Kyotango
In Kyotango there is a park built to honour Komachi, she was a Heian period (794-1185) poet who lived in the area during the last years of her life, around 900ce. Every autumn a Japanese arts celebration is held there. This year there were demonstrations of taiko drumming, noh theatre, fue (Japanese flute) and tanka (Japanese poem). I was invited, along with several English teachers, to participate in the tanka portion of the event.
Wearing a Kimono
When I got there people were busily getting everything ready for the event, and I was soon ushered behind a screen and helped into a kimono. There are quite a few layers to the men's kimono and a lot of ribbons and cords used to keep it in place. I understand that women's kimono have even more layers and ribbons and they are fastened tighter too.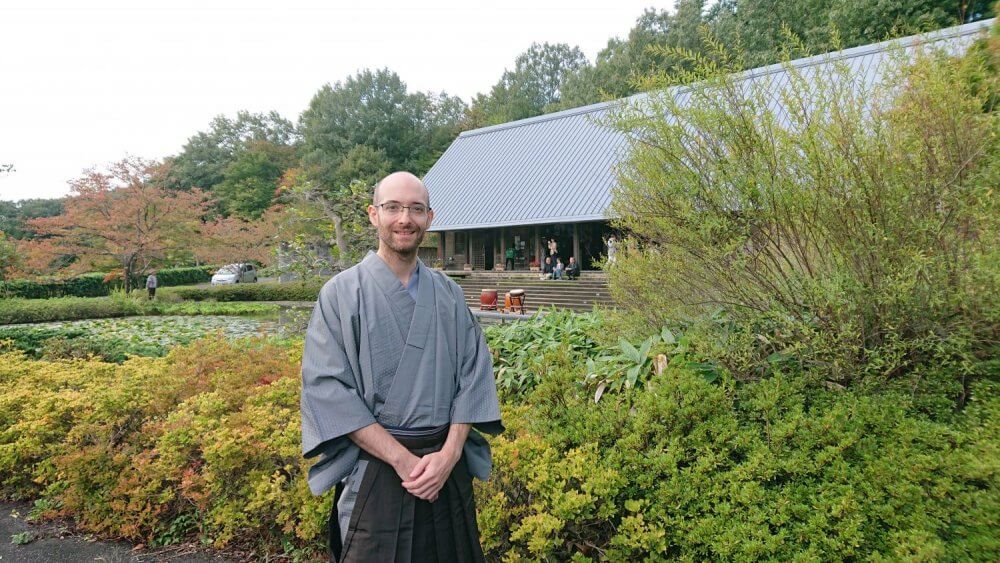 After I was tied into the kimono I was able to have a look around the grounds next to the main building. There was a small stream flowing into a pond covered with lily pads, and I noticed a few koi (carp) swimming. The trees had only just started to change colour so I was able to see a hint of what the park has to offer to autumn visitors. Along the stream there were some mats and paper and brush pens laid out for us to write the tanka on. I was starting to realize that this might be a bit of a big deal.
Performances
The first performance was by a group of taiko drummers who gave an energetic performance. Next there was a solemn noh performance, I struggled to understand anything that was going on. However, the information pamphlet explained that at least one of the three songs performed was related to Komachi. Then there was a fue (Japanese flute) performance, it had a very haunting noise which I thought was fitting with the autumn season.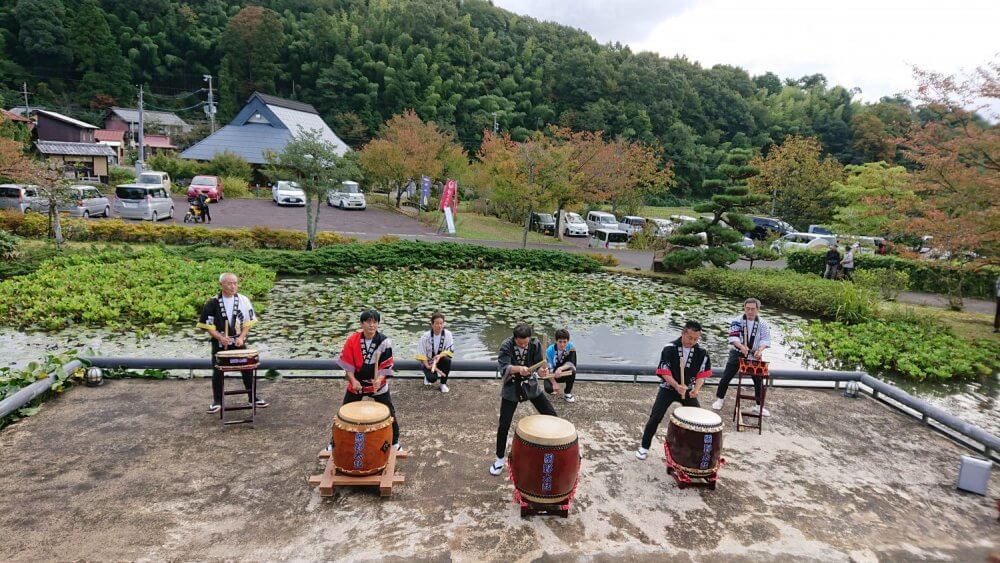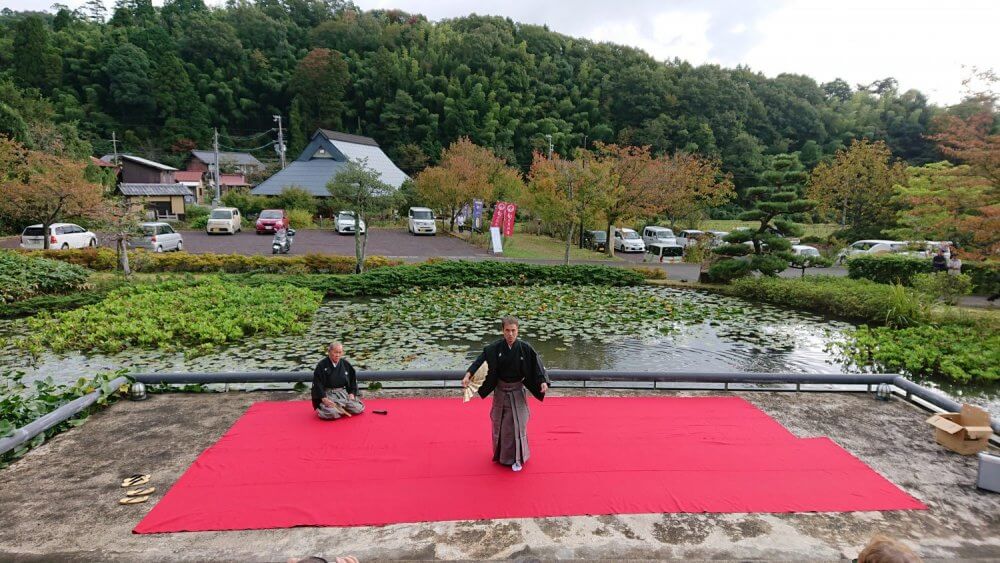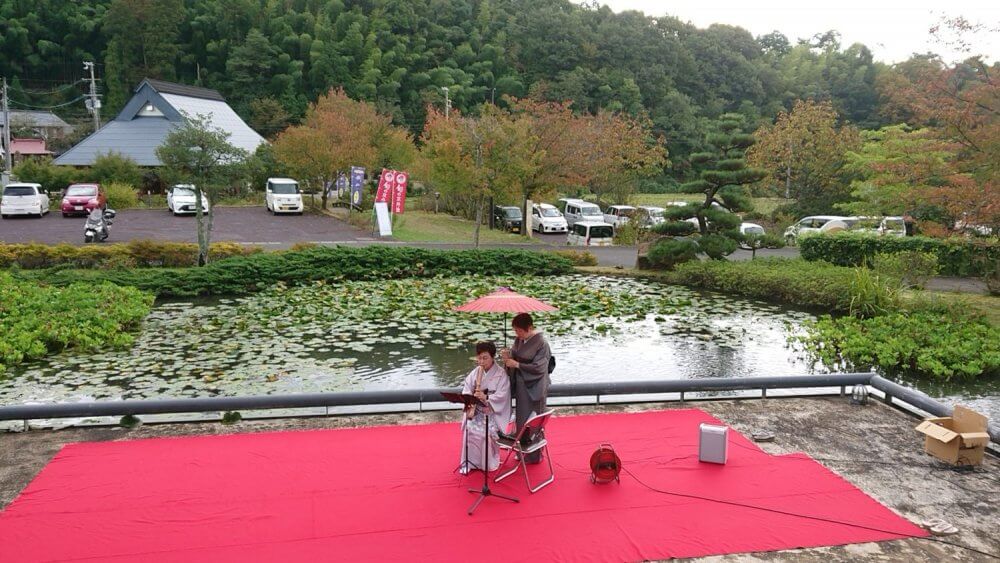 Writing Our Tanka
Finally, it was time for us to write our tanka. There were six of us who were writing them and we sat along the stream. We were given the themes which we could write about including Komachi, or the autumn breeze. We then had a few minutes to think about our poem before writing it down. It was a peaceful interval to contemplate our surroundings and consider our feelings before putting brush to paper.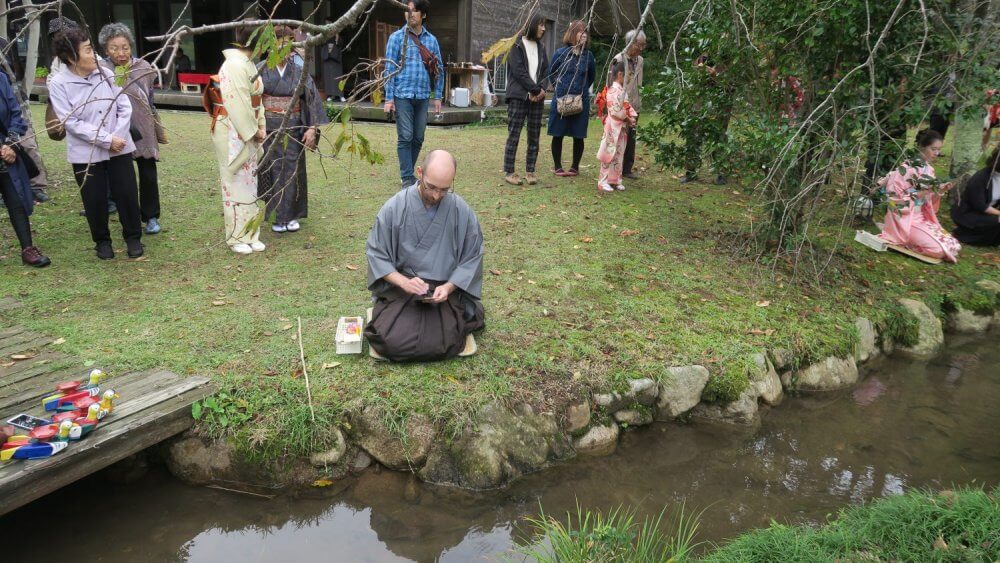 As we were writing it wooden birds with cups of sake floated down the stream. When I was finished I was given one, and had a taste of the sake, put a flower in the cup and returned the bird and cup to the stream. I don't know what any of it meant but I like the mystery of it, and inventing my own story for why.
After that the poems were read out loud and we were thanked for our efforts. We were then treated to some matcha tea and an omanju (Japanese sweet), then we were served our lunch bento. It featured the Kyotango local specialty barazushi (rice with minced mackerel, fish cake, thinly sliced scrambled egg and pickled ginger); tempura; and some soba noodles.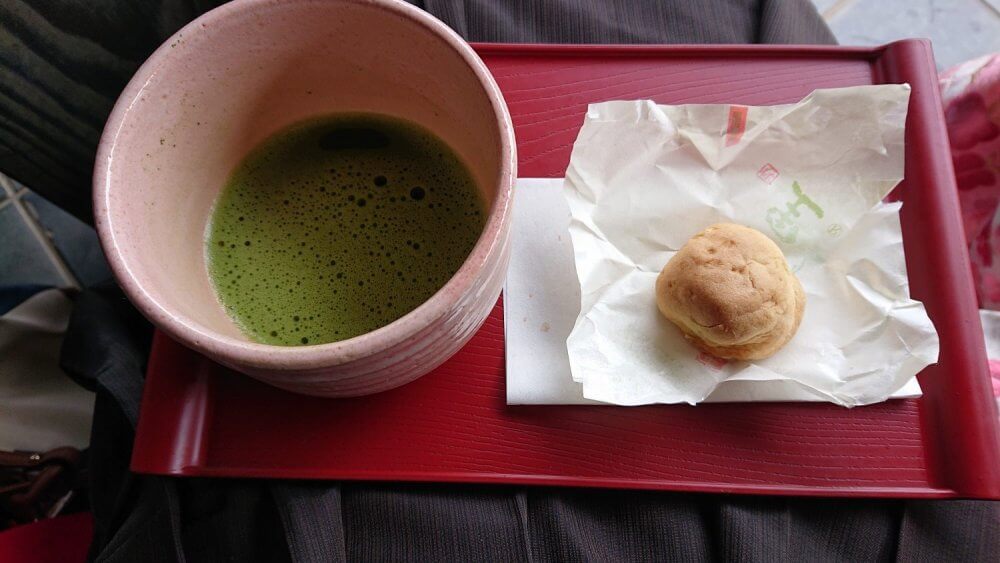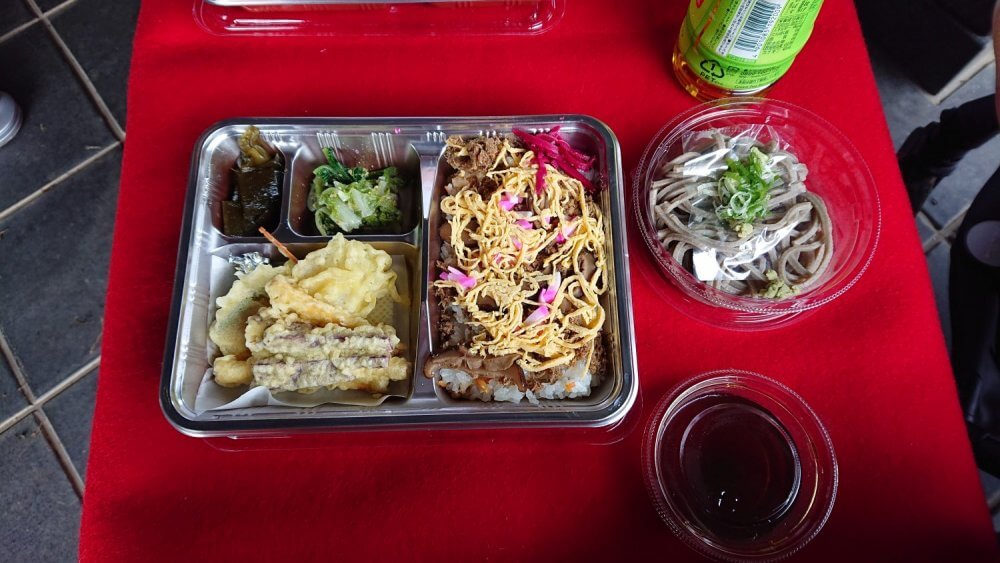 It was a very unique experience, and I felt very grateful for being able to join in. I don't think a lot of people get to participate in this kind of thing, even Japanese people, so I was very pleased to have been able to be a part of it.
My Tanka
So what did I write for my Tanka you ask? It's probably not very good by Tanka standards but I think I captured the feeling of Autumn with it. Although the Japanese version is a little more ambiguous as it doesn't have any pronouns.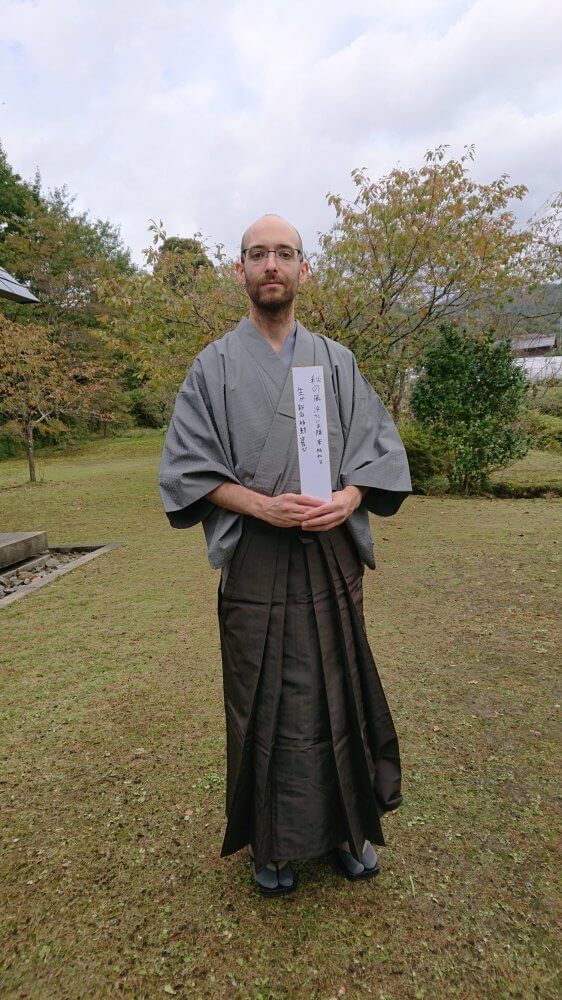 秋の風 冷たいお陰 末枯れる
生が新命 移動喜び
The autumn wind, With it's cold blessing, I wilt
My energy passes to a new life, I am pleased
For those of you interested in writing your own tanka here is some basic advise. The syllable count is 5 7 5 7 7 and in Japanese it is written across two lines with a break between the second 5 and second 7. In English feel free to write each phrase as its own line. Any theme is fine but it might be easiest to start with something seasonal.
If you want to go a little more in depth check out: http://www.tankaonline.com/Quick%20Start%20Guide.htm
For more information on Komachi-koen park check out our page: https://visitkyotango.com/things-to-do-spot/komachi-koen-park/
Photo Gallery