Blog
Posted: April 14
Tennyo no Sato – Cherry Blossom Picnic Spot
The second, and final, part of out virtual cherry blossom tour is Tennyo no Sato, "The Angel's Village". It is a campsite where you can also learn how to make some Japanese dishes. It also happens to be a lovely cherry blossom picnic spot.
Tennyo no Sato is located quite remotely, making it the perfect spot to enjoy the sounds of nature, while taking in the views of the cherry blossoms. And with so many different settings to view the blossoms from it is easy to have a variety of experiences in one place.
Tennyo no Sato
All along the river bank are cherry trees. When looking up river from the bridge they make a stunning display.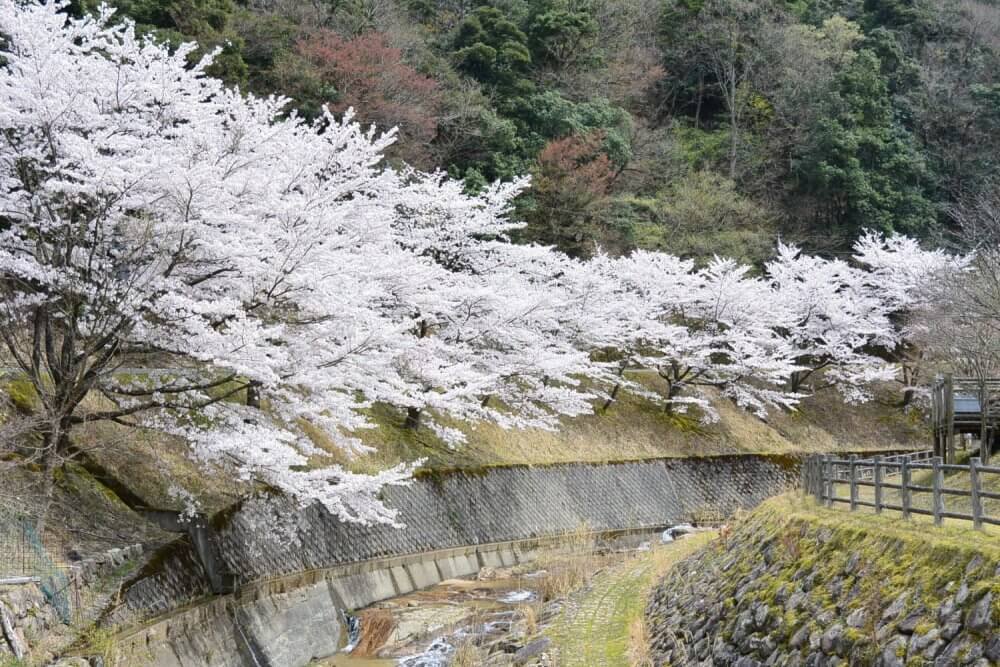 There is a path along the river you can access when the river's level is low. From here the blossoms fill your entire field of view.
Cherry Blossom Picnic Spot
Approaching the picnic spot there are some weeping cherry blossoms. They form a gentle barrier between the path and a field used for activities.
Picnic stations behind the blossom

Close-up of weeping cherry blossom

Looking back at the path

A lovely barricade
Along the river there are 9 platforms, each one has a picnic table. They can be hired for day use or the accompanying plinth has space for a tent for overnight camping. This would be my preferred cherry blossom picnic spot.
Two picnic tables with a view of the blossoms

Unobstructed view of the blossoms

Looking down the river from a picnic table
From the top of the picnic spots looking back at the main building across the field gives a lovely view of the weeping cherry blossoms and the hills in the distance.
Woodland Campsite
There is a dirt road that continues up from the picnic area into the woods. It follows along the river and has cherry trees lining the near side.
The view up the river

Looking down the river
The top of the path opens up to a woodland camping site. With the river bank on one side and surrounded by trees it feels like you've been transported to another world.
The path back to the picnic spot

Gazing up at the cherry blossoms

Campsite under the cherry blossoms
Outside Tennyo no Sato
From outside Tennyo no Sato, the road follows the curve of the river and the cherry trees. It gives a great view down the river, and puts you almost at level with the cherry blossoms.
Can you spot the stork?

The view from the trees level
From the road the view up the river is also lovely.
The view up river from the road
Tennyo no Sato is great place to get away from the busy world and relax in nature. And if you can match your visit to the cherry blossoms this is an excellent cherry blossom picnic spot.