Blog
Posted: April 8
Nyoi-ji Temple Spring Flower Walk
The first part of our virtual cherry blossom series is a spring flower walk through Nyoi-ji Temple. It's well positioned on the edge of Kumihama facing Kumihama Bay. And being off the main road it doesn't have a lot of outside noise to disturb the peace and tranquility.
Nyoi-ji Temple is the seventh member of the 25 Kansai Hana no Tera (Kansai Flower Temples). Its specialties are the mitsuba-tsutsuji, three-leaved azalea; and the view of the bay.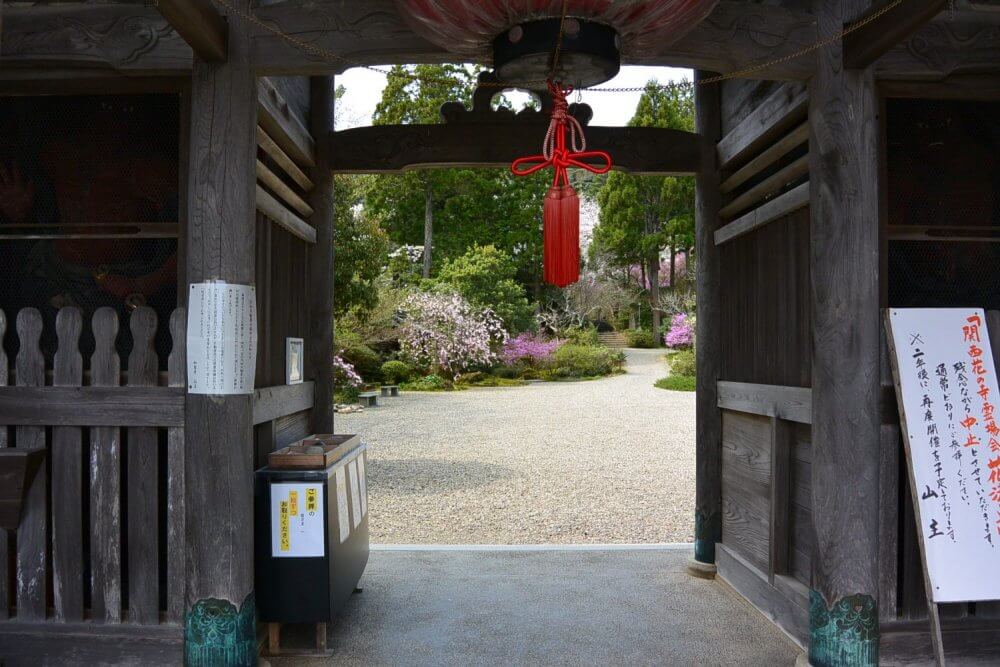 Walking through the gate of the temple it opens up to a wide reception area. You can start to see tree branches dressed in flowers reaching out from behind the green trees.
Once in the grounds the sound of a small waterfall can be heard from a corner across from the entrance. A cherry tree and an azalea bush partially conceal the waterfall with the effect of making it more lovely.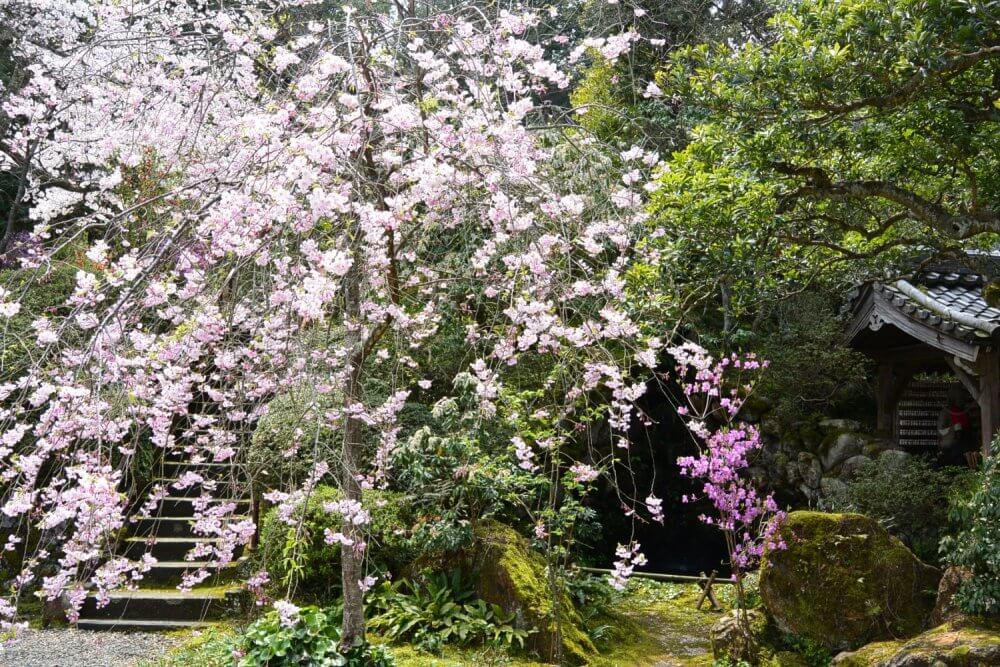 From the waterfall, by looking up you can see the Fudo Shrine through the flowers and leaves.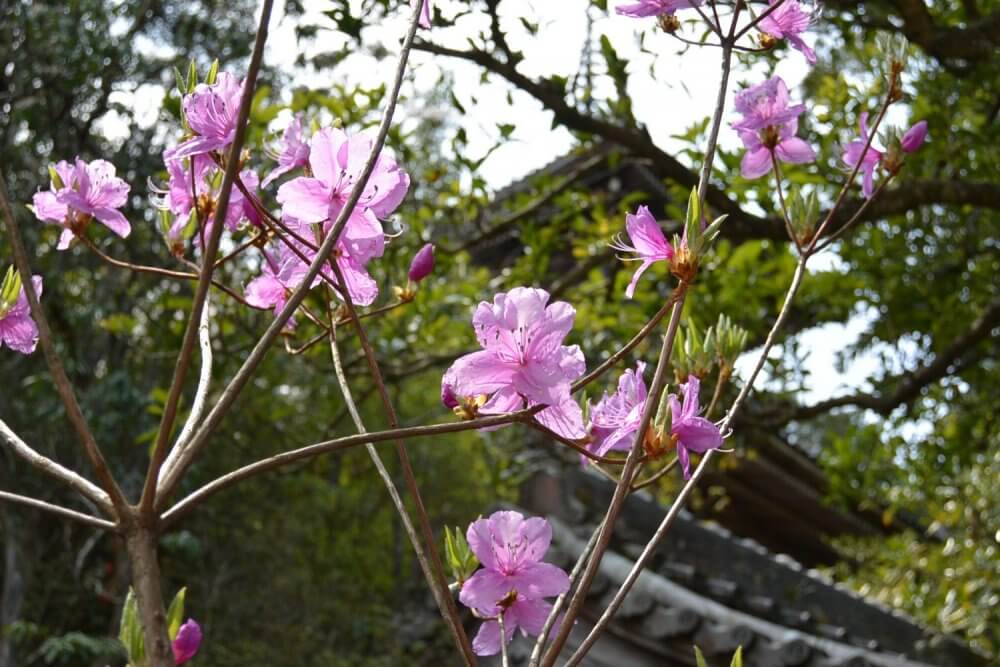 Continuing into the temple grounds and up some steps we find the main building. The elegant curve of the roof flows into the out stretched branches of the nearby cherry tree.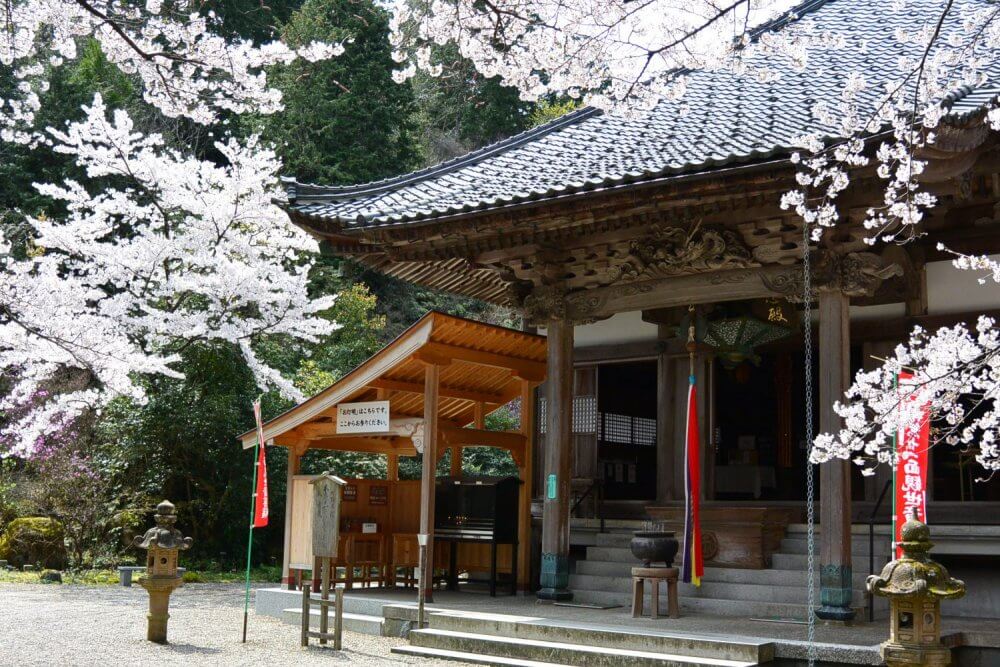 The Flower Walk
What makes this spring flower walk unique is the entire hill is covered in mitsuba bushes. They cascade beautifully down the hill. The color of the flowers are different based on when they blossomed. So when the hill is fully in bloom there is a beautiful gradation of pink across the hill face.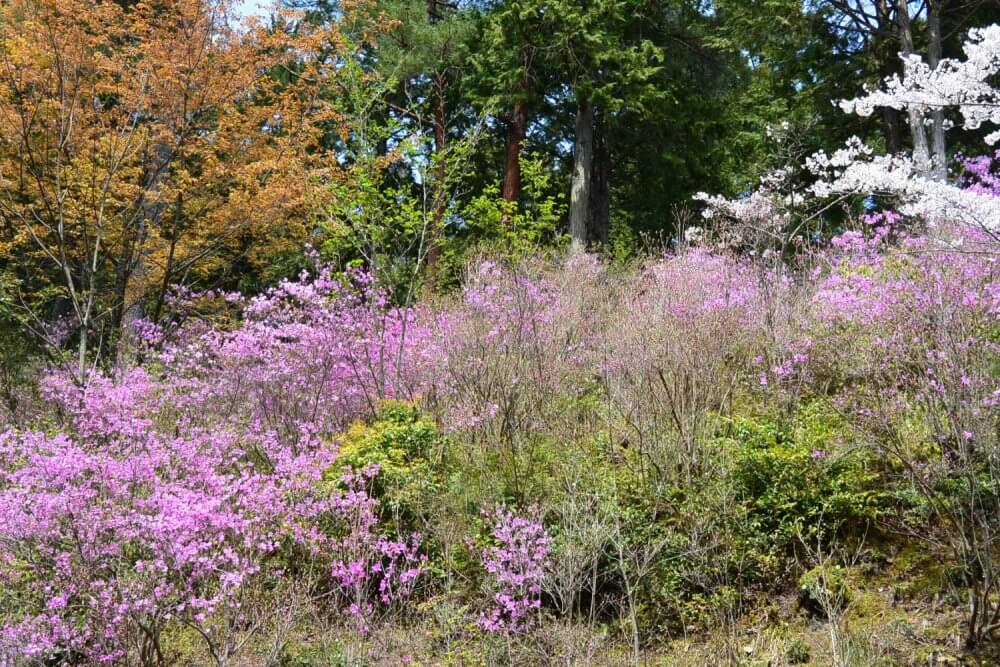 From within the flower walk there are some great views of the rest of the temple grounds. As well as a great view out to Kumihama Bay and Mt. Kabuto.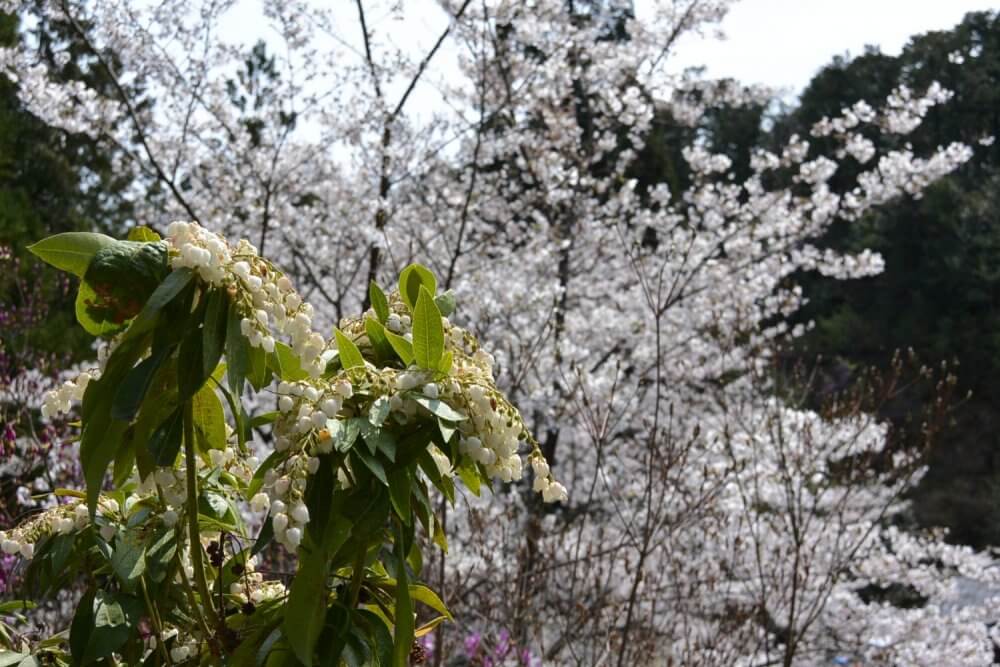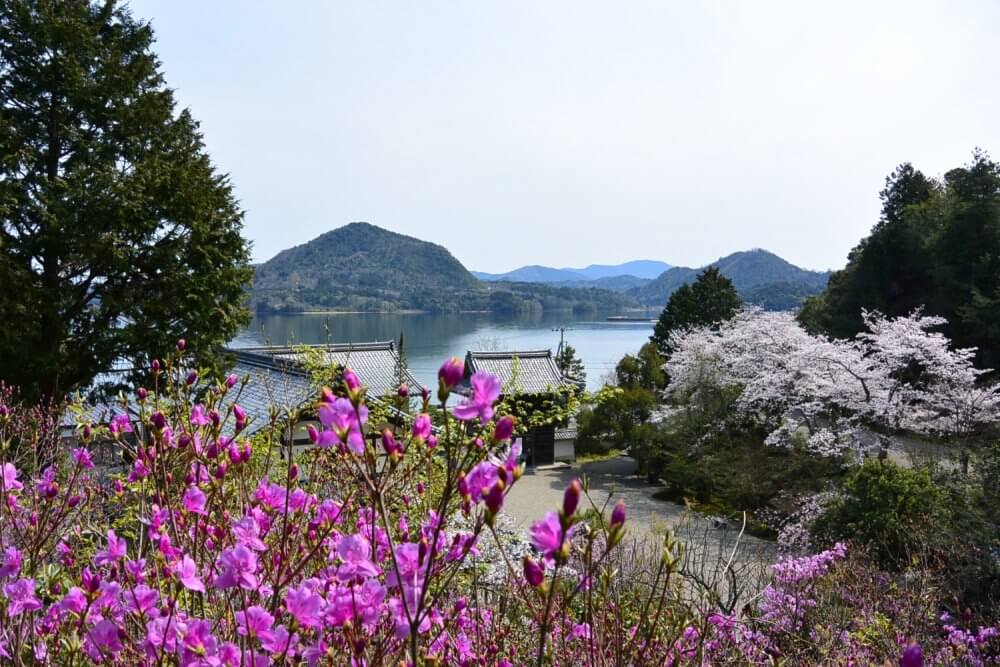 Their are a few features which add a sense of discovery to the walk. The stairs and the bamboo bridge give the feeling of a rustic woodland path. And what looks like an old path, now blocked off, curving around the hill adds an air of mystery.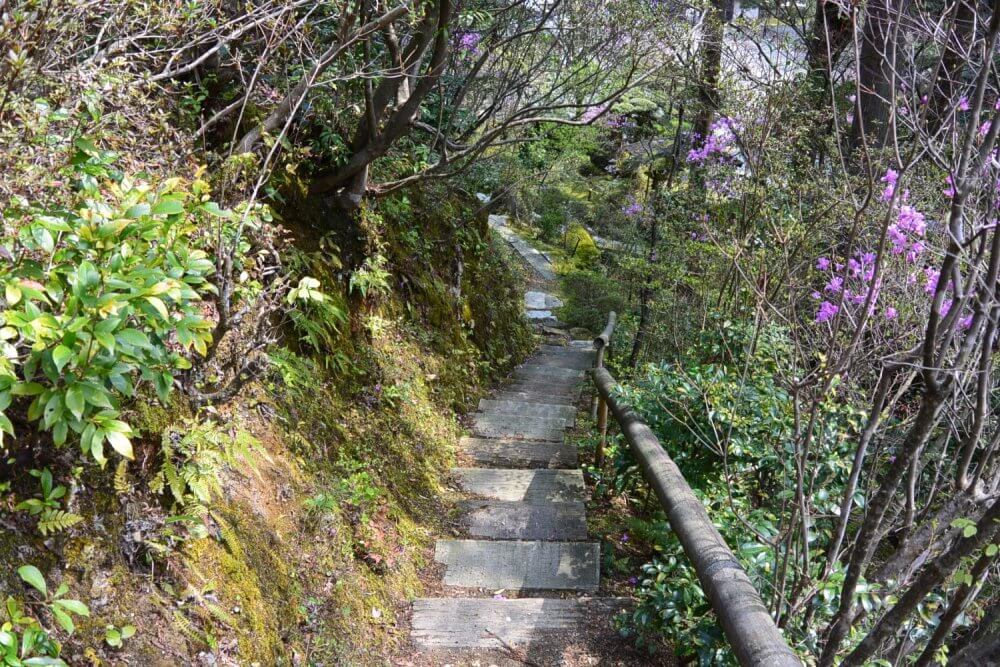 The Fudo Hall
Moving towards the back of the Fudo Hall, a rhododendron in full bloom can be seen up close..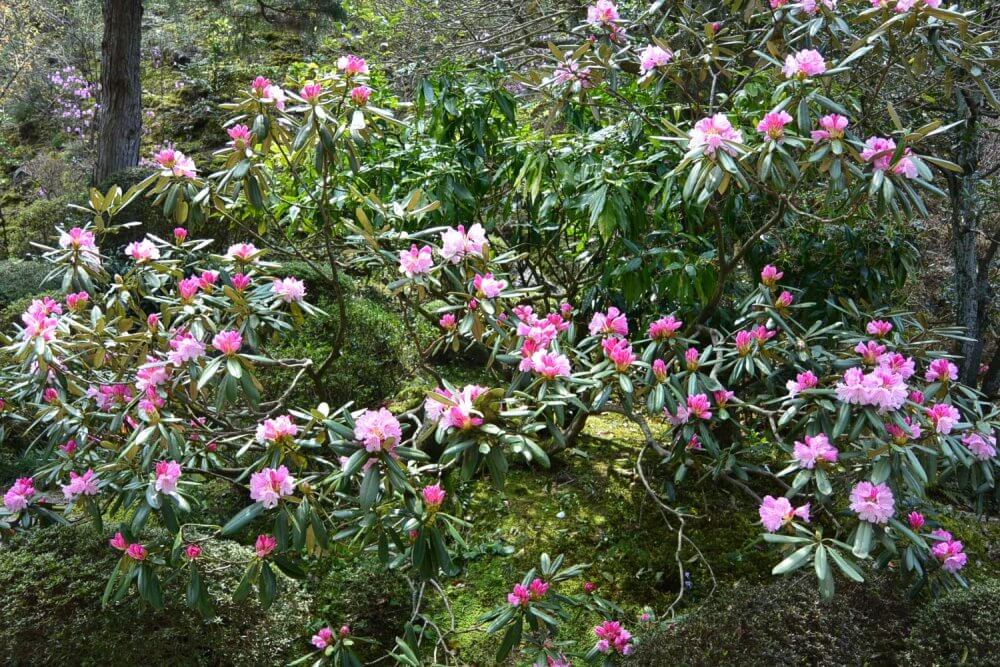 A cherry tree complements the shrine by reaching across the path. The white of the petals contrast with the dark colors of the shrine.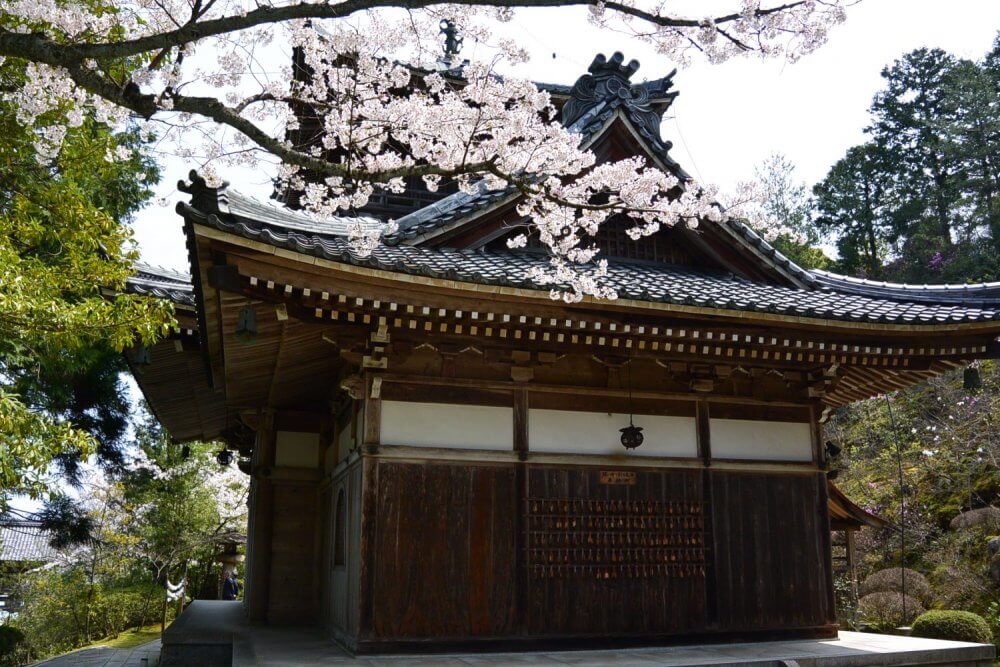 From the front of the shrine there is an unobstructed view to Kumihama Bay and Mt. Kabuto. The view is lined with a large cherry tree on one side and some smaller flowering bushes on the other.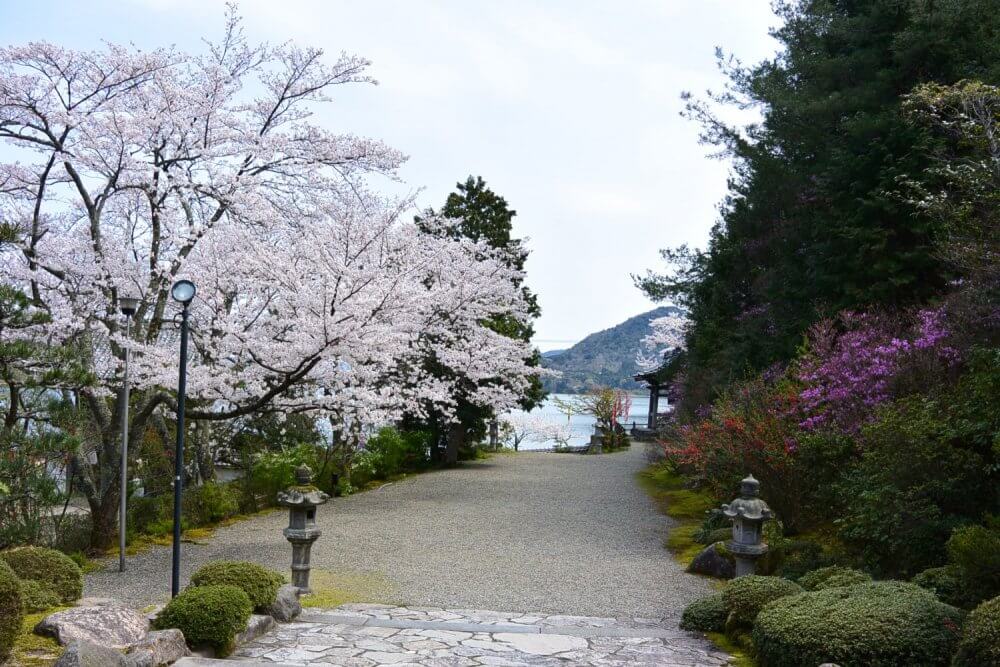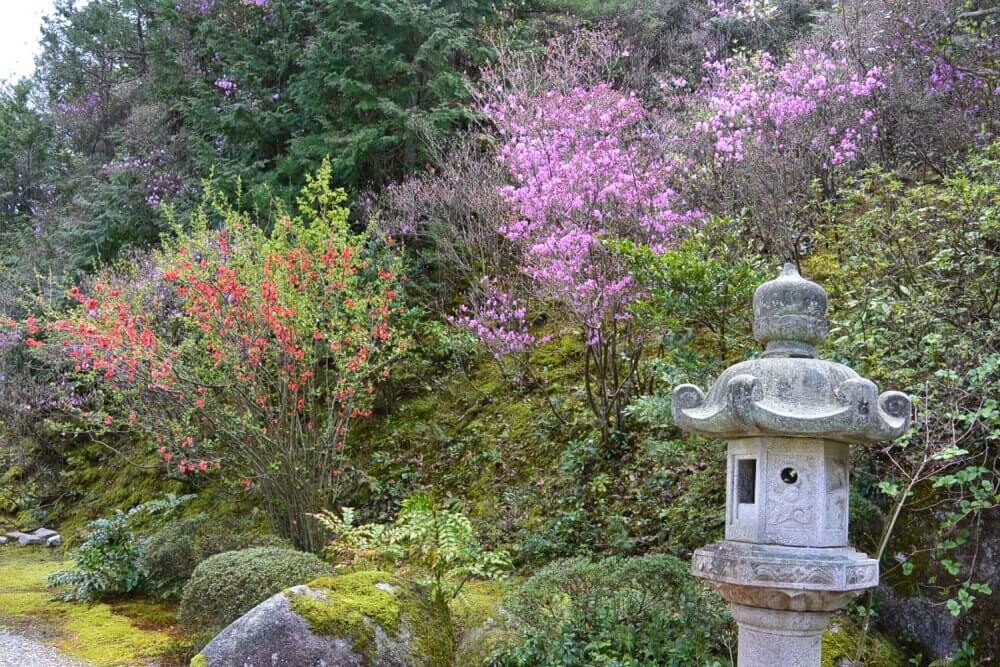 The view back to the shrine is equally splendid. With space to walk under the cherry tree boughs you can immerse yourself in their presence.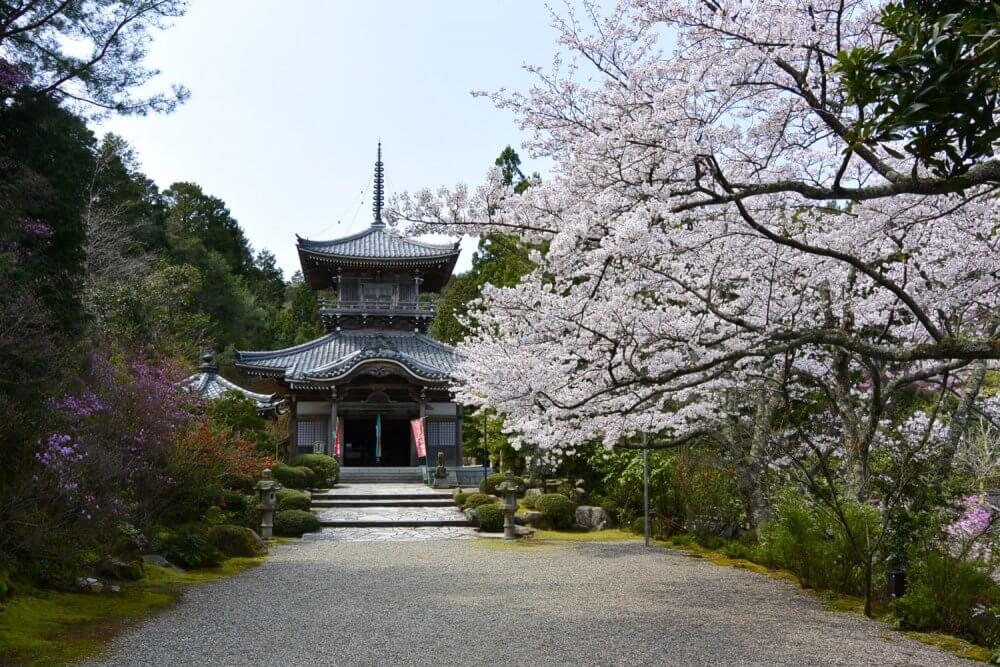 ---
Nyoiji Temple has the feel of a garden where the plants are in charge. It straddles the line between a rigidly manicured garden and the chaos of nature. The gentle patter from the waterfall and occasional sound of a gong used in prayer contribute to the spring flower walk's serene atmosphere.